Aquahunters Makahiki 2010 Competition
Written by Paul Belmudes
Tuesday, 02 February 2022 05:17
Follow the 25 Day Kayak Fisherman's Journey over 8 Months...
Wanted to shout out to my readers that I've entered the Aquahunters Makahiki 2010 competition. It will be held over the next 8 months covering 25 days of kayak fishing, ones that I carefully choose over this period of time.
If you want more information on this event, please visit Aquahunters (www.aquahunters.com). This site is highly recommended for your daily kayak fishing read featuring valuable information on kayak fishing the Hawaiian waters. As a new year resolution that I've made, I've committed myself to be more involved in our kayak fishing community for the State of Hawaii meeting new anglers and understanding the resources and respect for our ocean resources.
Even though this is a competition, it's going to be great fun to share a few laughs with fellow anglers and gain better fishing skills. The short video trailer above will be my introduction trailer for my future videos covering this competition. Not only will you get great videos with my updated video editing capabilities on my new iMac, you will learn about me and get into my mind, body and spirit through this competition.
As I mentioned above, visit the Aquahunters website for more information and if you feel you are up to the challenge, enter the competition yourself and maybe you will become the 2010 Aquahunters Makahiki champion. It's open to all Hawaii kayak fisherman new or polished. Aloha.
Hobie Mirage Plug-In Seat Peg and Comfort Seat
Written by Paul Belmudes
Sunday, 31 January 2022 10:00
Make Your Hobie Kayak Ride Better with These Two Additions!
I just received my new Hobie seat pegs and inflatable comfort seat pad from Austin Canoe and Kayak (www.austinkayak.com). After installation, took out the Revo and I wanted to share my thoughts. This information will help those who own a mirage drive kayak by Hobie who still have the old seat pegs and who are looking for additional comfort for there bum.
Have you ever had the problem of moving forward in your seat, especially when having to relieve yourself and your seat pops out? It's a struggle to reach behind and insert the pegs in the right holes which leads to frustration. Has your bum ever been sore after a 10 mile plus pedal feeling like you've been sitting directly on plastic the whole time. If you have had any of those situations, these 2 products by Hobie might help you out.
For the most part, both were good investments. The new Hobie Mirage Plug-In costs $9.95 and the kit contains two pegs, enough for one seat. Adjusted properly, the seat stays in the kayak much better than with the original push in pegs. The down side is that it requires that you peel back the velcro and loosen them a bit to remove the seat. It does add an extra step to removing the seat after a long day pedaling. This replacement is a great improvement over the original design and works excellent.
As for the installation, you must use a soldering iron to melt the velcro to increase the hole size so that the pegs can fit. If you try to drill them out, the fabric will get caught and pull out the thread.
As for comfort on the bum, the i-Comfort Seat Pad (costs $39.95) replaces the standard foam seat pad for the Hobie Mirage. I decided to add it under my original foam seat pad in fear of putting a fish hook and deflating the pad. After blowing it up and being on the water, I had to decrease the air pressure because it made me feel as though I was riding to high... so adjusting is easy by adding or releasing air pressure. Overall, the new seat pad is more comfortable and requires little air to make it more comfortable when doubled up with the original seat.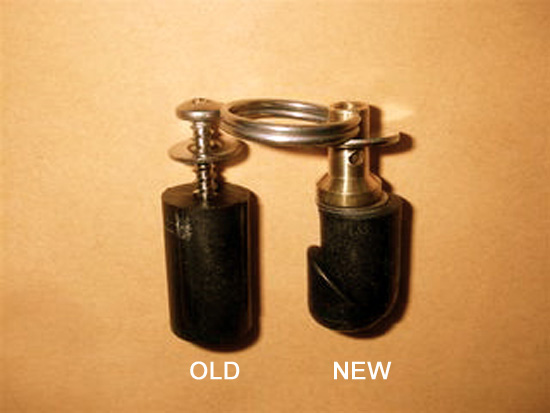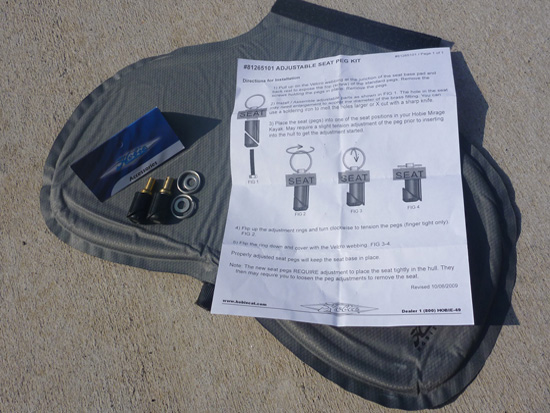 Change of Scenery... Kawaihae Pelagic
Written by Paul Belmudes
Monday, 25 January 2022 18:05
Plans Cancelled to Fish Down South Point... But Not to Catch Fish!
I've been following the weather forecast for the last few days in anticipation of lighter trade winds and maybe a shift of wind direction from the west. The plans were to fish South Point with some Aquahunters,  but NFL championship football got in the way along with the excessive drive. With my gear packed and ready to go the night before, I decided to solo out locally at Kawaihae, a 20-minute drive from my house with great launching conditions in a protected marina that keeps surf down.
I headed out the door at 5:45 a.m. and arrive a few minutes past 6 a.m. with darkness and the glimmering lights reflecting off the harbor. I ran into Steve Heusser who makes his morning stop-over to check out yak heads who love to fish out of Kawaihae since he works at the Hawaii State Park down the road. I also walked over and introduced myself to a tandem team who just started kayak fishing in the last few months. This sport is growing at a moderate pace as I saw two more kayak anglers show up and get out to appreciate the perfect weather and conditions we were about to have.
I was on the water at 7 a.m. and headed southwest gazing over to my left to witness an intense sun peaking over Hualalai slopes. It was a hazy morning cascading Kohala, Mauna Kea, Mauna Loa and Hualalai.  I noticed to my right whales breaching making a slapping noise on the Pacific ocean surface. It had an echoing effect but to far out to video tape it.
As I pedaled my Hobie Revo for the first hour literally with no action, I came over a huge fish pile at 60 fathoms that sounded my fish finder off. I prepared myself for some trolling action and stayed course as I trolled the pile for ten minutes. It was uneventful and I said well at least I am going to have some raw video footage on the increasing number of whales in the vicinity of kayak. Then I saw my rod take a bend with a quiet reel. It's was very rare to have this happen as I call it a quiet strike. I immediately grabbed my rod and set the hook and low and behold it was a mahi jumping out of the water 200 feet in front of me as I steered my Revo in the direction of my line.
The tension was light and I managed the mahi very easily since it was on the lighter side. But nonetheless, It was a fun fight. I just love the tease mahi give when you have them on the end of your line. I really tried to slow it down and tired it out as I brought it closer to my kayak. Then the drama set in as the mahi wanted no part in coming on board. It jumped and twisted trying to spit the line but my line was so secured as the lead hook was really grounded into its jaw. Grabbing my kage, I nailed it perfectly raising the spear to keep the fish from jumping off the steel sharpened rod. Flapping around for a few moments then coming to a calm, I lowered the fish and declared a victory for the day.
As I bagged the fish, I decided that I would head on in and throw one more 4-month cryptic old dead opelu bait that has been thawed and frozen at least 4 times. It was wrinkled and once I got it rigged and tossed over trolling two-hundred feed behind me using my Reggie Pare' rig, I had another strike that ran and dove straight down. To my amazement, it was a shibi (small yellow-fin tuna) on my line. O.K.... it's going to be poke tonight! For some reason I did not hit the record button correctly on one of my video cameras after I shot footage underwater capturing the shibi. It was not the biggest shibi, but it sure was fun to have two pelagic on board within one-hour and forty-five minutes. I decided call it a day and headed directly in with out a third attempt. And once again, if you are at the right place at the right time, it can be an eventful day even if you are using old cryptic bait.
Wow... I still had time to watch the opening kickoff of the NFL Championship Playoffs
High Definition Waterproof Video Camera Comparison
Written by Paul Belmudes
Wednesday, 13 January 2022 10:00
Sanyo Xacti VPC-WH1 and the Panasonic Lumix DMC-TS1
I just received my new waterproof Panasonic Lumix DMC-TS1 camera that I purchased on Ebay for $280 plus USPS Priority shipping this last week. I quickly loaded it up with a 16 Gig SDHC card and mounted it as my second camera for my kayak. For the last 3 months, I have been using a Sanyo Xacti VPC-WH1 and have been really impressed with HD quality it has provided. With both cameras mounted on my kayak, my goal was to achieve a more professional cut views when shooting future videos.
With the opportunity to fish South Point with my pal Reggie, here is the comparison demo.
The Sanyo Xacti VPC-WH1 is built to withstand taking a pasting from water, whether it's fresh or salty. You can take it down ten feet when shooting your catches. In terms of the camcorder, the 720p HD ready movies on the Sanyo Xacti VPC-WH1 look ace for such a bargain (around $350 with Amazon.com). Shots in both watery and dry surroundings look crisp and clear and are enhanced by the inclusion of a 30x optical zoom, which gives you tight, detailed pictures every time.
The Sanyo Xacti VPC-WH1 has ample file support, churning out flicks in MP4 which you can either add to your iMovie on your Mac, or edit using the bundled free editing software on your PC. I recommend using a separate program for video editing if you can. The one I use for PC editing is the Cyberlink PowerDirector 9 that imports the m2ts video file format smoothly.
The Sanyo Xacti VPC-WH1 suffers in the still photography jpg files it produces with a measly two megapixels output. Overall, there is more to the camera that I can point out but the video on YouTube that I uploaded can show you the true results.
As for the Panasonic Lumix DMC-TS1, the reason I purchased this camera was for the waterproof and shockproof still photography it produces as well as the adequate HD video it captures. The disapointment was when the camera faces the sun as it created a vertical line streak in video. The buttons on the camera are very small and complex to operate when wearing fishing gloves, not a problem when the gloves are off.
The quality of the video when shooting away from the sun is excellent. Another reason I chose this camera as my second choice was because I did purchase the new GoPro HD video camera. I truly hated that camera as it produced a fish eye look on all videos... thus resulting in my sending it back to the retailer.
Overall, I feel that both cameras will complement each other when editing as I can sort through the raw footage and choose the video segments that demonstrate decent quality. Watch the demo video fully and you will see the difference. You will probably not notice much difference with future videos unless I point it out, especially when viewing the YouTube rendered files that have been uploaded on the YakHawaii Channel.
{mos_fb_discuss:5}
Page 11 of 14
<<
Start
<
Prev
11
12
13
14
Next
>
End
>>
YakHawaii Links
Daily Moon Phase
Who's Online
We have 236 guests and 2 members online