Yak-Attack Fishing Tournament Coming November
Written by Paul Belmudes
Sunday, 18 October 2021 23:32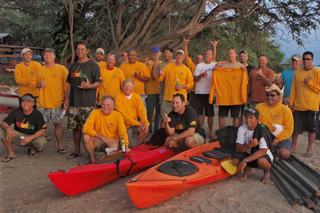 Aloha kayak anglers... get ready for the next Yak-Attack Kayak Fishing tournament to held November 21 and 22. This will be the 9th Yak-Attack tournament held on the Big Island and welcomes all Kayak fisherman, new or experienced to fish at any location around the Big Island that they choose. Even if you don't own a kayak or are new to the sport, Plenty Pupule Kayak Store can outfit you so that you can enter the tournament. They will be hosting a kayak fishing clinic on November 7th and 8th. For more details on the clinic, please visit their website.
There will be two classes, Recreational and the Pro Division. In the Recreational Class, there will be two kayak fishing categories, one for those catching Inshore Fish and a 2nd category for those going after the Offshore Species. Entrants can enter one or both categories. Prizes will be awarded to the top three anglers in each category with a new Angler Kayak being awarded to the first place winner in each category.
The Pro Division is a more challenging format benefitting those who are able to land both an Inshore and Offshore Species. Anyone can enter the Pro division but those anglers that are sponsored with kayak fishing gear, earn income as Kayak Fishing Guides, or have sponsors pay some or all of their expenses, will only be eligible to enter the Pro Division and will not be permitted to win awards in the Recreation Class.
Weigh-in and pupus will be happening at Plenty Pupule Kayak Store. All entrants catching fish and wanting to win a prize must show up during those weigh-in hours on Sunday from 3:00-5:00pm, or have their catch previously weighed on Saturday, by Kelly at the Plenty Pupule Kayak Store (just above Home Depot, next to Snorkel Bobs), to be eligible for awards
For more information for the November 21 & 22 Yak-Attack Kayak Fishing Tournament, please call Plenty Pupule's Kayak Store in Kona at 808-880-1400. Entry Forms and Waivers are available, at Plenty Pupule Kayak's Kona location just above Home Depot next to Snorkel Bobs. Or email This e-mail address is being protected from spambots. You need JavaScript enabled to view it and she can email you a pdf of the entry form, waivers and rules.